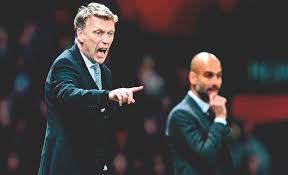 Pep Guardiola has admitted he is a very big fan of David Moyes both as a manager and a man!
And the Manchester City boss knows that he cannot relax an inch as the Irons arrive in Manchester to take on the Premier League leaders.
Guardiola knows the Hammers are not to be treated lightly after a successful run which has taken them into the top four.
He is also aware that this is largely down to a manager of great experience whose fingerprints – to be honest – are now all over the club.
He has nothing but good to say about the Scot and was happy to talk him and the Hammers up during a press conference ahead of the game.
City will be favourites for a game which kicks off at 12.30 pm tomorrow and in which the Hammers will at the very least be looking for a point but don't rule out three.
Guardiola said: "They are in the Champions League position. That is not just a good run for one month, it's over many months, so that means they are strong.
"David Moyes – I admire this type of person, like Roy Hodgson have had incredibly long careers. I would love to have their long careers for many years and have this passion to be manager and to do the job.
"The season speaks for itself. The way he understands football, he does it perfectly.
"He has a lot of experience. I dream of one day arriving in this position, where everything is calm. They live like a Buddha life – in good and bad moments they are calm.
"He always takes care of me. I cannot forget my first game in the Premier League was against Sunderland. He was the manager there and he was so kind, he gave me some advice about the Premier League.
"It's a real tough game because all the big clubs have suffered against them and they are a good team."