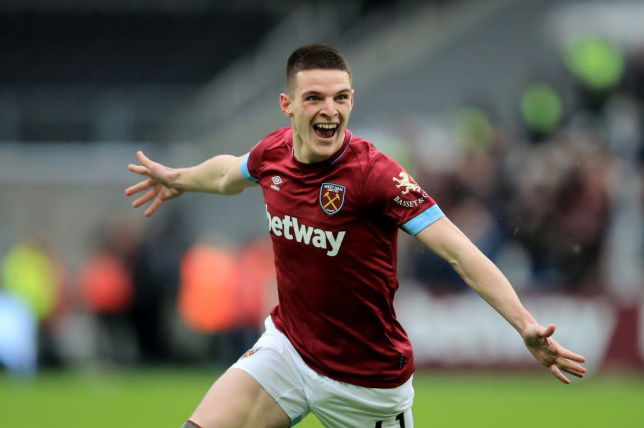 Declan Rice was again at maximum last night and this time was joined by the rest of the players as the hammers were beaten but will have gained great confidence from an Anfield defeat which was as hard to take as it gets.
The defensive midfielder has been outstanding all season and was once again at the top of his game during a game from  which the team really should have taken something.
But it may just turn out to be that the Hammers turned a corner towards better times last night as there was much to admire against probably the world's best team.
Declan believes the Irons surprised their opponents and explained how the recent home outing against them had taught them things which they carried into last night's confrontation.
Now it's Southampton and  another performance as he says is the absolute minimum if we are going to start lifting ourselves towards safety.
Commenting at https://www.whufc.com/news/articles/2020/february/24-february/declan-rice-has-be-minimum-standard-every-game he said: "There are a lot of positives to take. A lot of people thought we were going to come here and just sit back, but we've scored two and could have maybe had two more. 
"Michail [Antonio] had a great chance; Jarrod [Bowen} had a great chance. We were a threat from corners. But again, mistakes cost us. That's been pretty much the story of our season. 
"Everyone knows what Anfield is like. The fans are on top of you and they have top players. We've got to be men out there and hold onto the lead. We could have done that tonight, but it wasn't meant to be. We have to go again now. 
"There are positives to take in that we've come here and given the best team in the world a real go, but we're gutted that we've lost 3-2."
"We took positives from the first game, that we could create chances and get after them. Tonight was about, when we had the ball, getting up the pitch and creating chances for each other, and I thought we did that. 
"I think they were probably a bit surprised by the chances we had created. We had a few one-on-ones, but the real tough games start now."
He added: "That has to be standard in every game, out there on the pitch. Liverpool are a great attacking team, but they also do the defensive work, and we've got to do that as well. 
"If we can cut out the mistakes then I'm sure we'll be all right. We've got goals in the team and some good home games coming up that we know we can win.
"We've got Southampton on Saturday. We've had two tough games back-to-back in Liverpool and Manchester City, but there's positives to take from both. And now Southampton is a massive game for us."