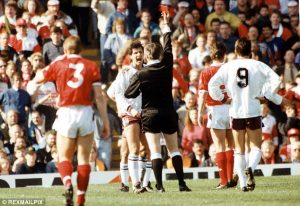 Keith Hackett will have done absolutely nothing to redeem his tattered reputation among Hammers fans with long memories after laying into Marko Arnautovic following his red card dismissal at Southampton.
It was HACKETT'S  disgraceful decision which saw Tony Gale sent off in the 1991 FA Cup semi final against Nottingham Forest at Villa Park – killing any hopes of us landing a spot in the Wembley Final.
It was a horrendous decision (I was there) and the central defender has never been able to forgive Hackett's memorablY shocking 26 year old horror show.
So listening to his view that Arnautovic should be banned for five games is pretty distateful and only serves to remind some of us what a terrrible referree Hackett was during his time officiating.
Giving his verdict on You Are The Ref, Hackett called for an immediate five-game ban for Arnautovic and for anyone else caught using their elbows and getting sent off.
He said:  "The referees failure to detect this challenge contributed to West Ham's Arnautovic deciding foolishly to take matters into his own hands by committing an outrageous brutal act, deliberately using his elbow on an opponent.
"This should be a five match ban! It is my belief that at the moment we are witnessing too many challenges that are reckless and with excessive force. The PGMOL need to call a meeting with the Premier League, PFA and LMA to express their concerns so that everyone understands the seriousness of these challenges."
 Hackett also complained about Mason missing a "blatant" red card for Mark Noble, who launched into a pretty awful, studs up challenge on Mario Lemina that went unpunished.