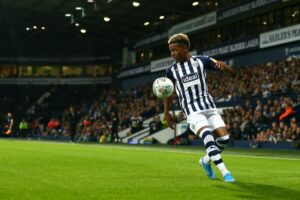 Grady Diangana has done great at West Brom under Slaven and after endless speculation on whether he will stay there or return it's good to have a definitive answer so early and quickly!
And like many I'm delighted that he will be seeing the seeing the season out at the Hawthorns – Pellegrini has got it spot on for me!
So far Grady has four goals and provided five assists in 13 games as he has become a hero figure among the Black Country outfit's supporters.
It was never going to be a great idea to bring him back to the London Stadium as he continues what is obviously a brilliant learning curve.
As the Hammers boss pointed out he could get the best part of 40 games up there and come back to us a seriously complete player.
He showed plenty of potential with us last term and that he was given his chance so early by the manager demonstrates that he has real faith in his potential.
That potential is quickly becoming realised and under a manager in Slaven who knows the West Ham Way inside out and backwards we could have a real challenger on our hands next season from a guy whom our former boss has made it clear "is desperate to prove himself.