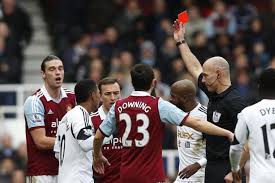 There won't be a West Ham fan in the world who would disagree with former Premier league official Mark Halsey who this morning declared: "He has not had the best of seasons."
Webb – thought by many to be the FA's poster boy – was at the centre of a humungous  error of judgement yesterday when failing to give Liverpool a "blatant penalty" in Sunday's FA Cup clash at Arsenal.
Although totally different in nature, it was as bad as the decision to send off Andy Carroll for messing up cheating Chico Flores' hair!
Our picture shows Webb at the moment he decided to send off our striker for exactly that.
The Irons striker serves out the last game of the three match ban this weekend but will probably be heartened by Halsey's judgement as is ClaretandHugh.
Speaking to TalkSport this morning (Mon) he was critical of Webb's activities away from the game declaring: "Howard has made an error of judgement.
"He has not had the best of seasons. He has not been the Howard Webb we all know."
And he added: " "Perhaps he may need a little rest because he is perhaps doing too much.
"He is not just refereeing football matches, he is doing a lot of work outside of football. He is doing a lot of after-dinner speaking. Everyone wants Howard Webb because he was the World Cup [final] referee [in 2010].
"He has to take a good look at himself in the mirror and ask himself what he wants. This (refereeing) is his full-time job and he has got to concentrate on this.
"He has to forget about what he is doing outside of football. He has got to put that on the back-burner and concentrate on what he is being paid for full-time."