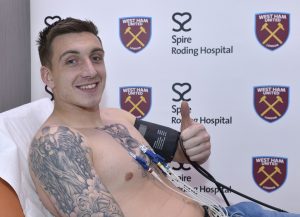 Jordan Hugill was missing in Queen Park Rangers defeat against Sheffield Wednesday over the weekend with the west London side losing 3-0.
The 28-year-old Hammer suffered a hamstring after scoring a first-half strike against his hometown club gave the R's a 1-0 win at the Riverside Stadium.
The striker was substituted immediately afterwards but injury website suggests he may not recover until the end of July by which time the Championship season will be finished.
Journalist Alan Nixon says it depends if Hammers stay up or not adding he is got a good contract so he's probably a loan signing for some club again next season as he scores in Championship.
Hugill agreed to a season-long loan to QPR last summer with the Championship side paying £20,000 per week of his £33,000 per week wages with no additional loan fee.
Hugill has scored 15 goals for Rangers this season extending his loan until the end of the Championship season.