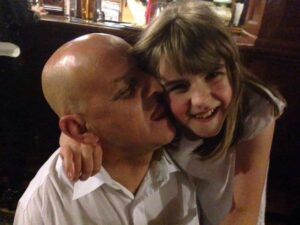 Colin Hudson was, as they say: '
claret and blue through and through'
.The 21st May 2019 was an ordinary day for Colin was on his way to work and riding a London Underground escalator when he suddenly lost his balance. Colin tumbled down the steel steps and crashed to the marble floor at Liverpool Street Station.  Complaining of a sore knee and back, Colin went for some routine tests to find out if it was sciatica or muscle damage. Scans revealed something more serious: stage 4 lung cancer.
The cancer had spread to Colin's bones; bone cancer had caused Colin's bones to crumble; it was Colin's weak bones that had caused his legs to give way on the escalator. He was given 12 months to live. The cancer had been in Colin's body for quite some time — unbeknown to anyone. His diagnosis shocked his family. He was fit, healthy, and only 62 years old.
"Cancer doesn't care who it picks," his sister Tina says.
Colin desired to spend his final weeks at Saint Francis Hospice. He was never one to show his emotions, as Tina fondly recalled:
"He held our hands so tightly at the Hospice — that was his way of showing his love for us." 
Being self-organised wasn't Colin's forte either. He surprised everyone by having plans in place for his death, including his wish not to be resuscitated, desires for his two children, and who he wanted as pallbearers. Colin asked to be laid to rest next to his dad while wearing the shirt of his beloved West Ham.
Colin was reluctant to let his children visit him at our Hospice as he didn't want them to 'catch' his illness. "You can't catch cancer, bruv," Tina would say to him. Colin wanted to donate which organs he could. While the cancer had prevented any organs below his neck from being taken, he could give his corneas.
Tina's last memory of her brother is a tear falling from his eye as his tight grasp of her hand slowly slipped away. Sadly, Colin never made his 12-month prognosis. He passed away at our Hospice just 12 weeks after his diagnosis.
Colin got his wish for a Hammers-themed funeral. West Ham's bubble anthem rang out as his loved ones parted with his claret and blue coffin in the chapel of rest amidst the bubbles. Club Captain Mark Noble wrote to Colin's family shortly after.
Tina said: "He has left a big gap in our lives, but I can't thank the hospice enough. He fought until the end. It's comforting to know Colin is now seeing the world through the nine people he has helped to see again."
You can donate your corneas like Colin after your death by visiting organdonation.nhs.uk or call 0800 432 0559.
Saint Francis Hospice can be found at https://www.sfh.org.uk/