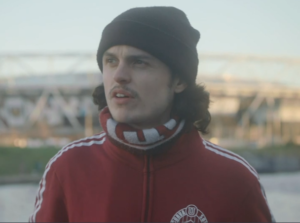 The BBC has made a short film about a former West Ham season ticket called Justin who now makes for regular trips to Arezzo in Italy, where he's been embraced by fans of the third-division Italian club and has re-found his love of the game he claims.
Justin explains "I can never change my colours, I can never change my team, I am West Ham fan, with that being said I would rather spend my money going over to Italy watching third division Italian football with people who share the same mentality about what support should be"
"In 2016 my football club West Ham United moved to the London Olympic Stadium, I was heartbroken leaving a whole community behind at Upton Park the former ground now plays host to a bunch of posh flats. The first season at the new stadium, I started to feel a change, I started to feel more like a customer, more like a consumer and less like a fan. People were more concerned about having a chat and talk about the Wi-Fi, talk about what they are up to over the weekend. I was worried about my style of support, the traditional way of following your team had died there. I describe myself as an ultra-traditional football fan, vocal, impassioned and desire to create an atmosphere, it's tribalism, being part of something,  being part of the movement, being with your peoples " 
Watch Justin's short film at https://www.bbc.co.uk/bbcthree/clip/f41124ba-6b55-401d-a976-be92114e6cdd
Claret and Hugh say: Justin says he can never change his colours and his team but he has done just that by turning his back on West Ham to support an Italian team. How is he still a West Ham fan? I don't get this mentality, we are West Ham through good times and bad times and the London stadium is just a stadium.  We have survived the Bond Scheme and the Cairns, we survived the Icelandics and the Tevez saga, we have survived relegation too many times to mention in my lifetime and we have also survived a period of Sam Allardyce's football. West Ham is in our blood and we don't just abandon them when the going gets tough.