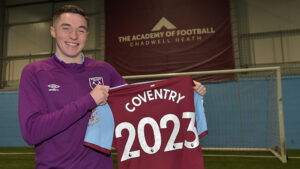 Hammer Conor Coventry a loan deal with League One side Lincoln City until the end of the season.
The West Ham youngster made his first-team debut for the Hammers in their 8-0 Carabao Cup win over Macclesfield Town in 2018.
Coventry spoke the Linclon Official website after signing saying
"I am buzzing to be here, especially after seeing the quality we have in training, and the facilities are very good as well. I'm happy to be here and looking forward to getting going in games. I think the fans can expect me to always give everything, that's a given. I like to get on the ball and bring energy, but I also like to make tackles, I hope I can please the fans by doing my part."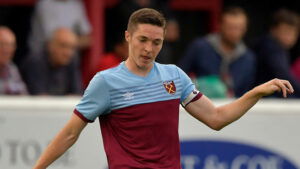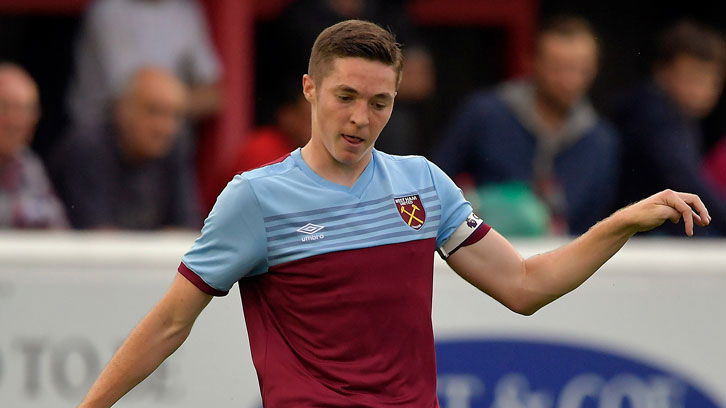 "I have been around the first team at West Ham for the last couple of seasons, but I need a fresh challenge to get game time at a level which is physical, and men's football is what I need to do that. Lincoln is the best place for me to develop because of the faith the manager has in me and his style of play."
"You can't compare playing for your country, you are playing against some of the best players in Europe," said the 19-year-old midfielder. 
"We played Italy the other month and they are all playing regularly in Serie A, so to play players of that sort of level is incredible.
"Zack (Elbouzedi) looked after me yesterday, I was buzzing to see him because he is a mate of mine from Irleand.
"I didn't know anyone else here, so Zack took me in straight away and introduced me to the lads, I felt at home straight away, so it is great to have him here. He is a great player so it's great to have him on the pitch as well as in the dressing room. I can't wait to get started. I know a bit about the club from watching them on tele. I know about the atmosphere and the air raid siren so I'm looking forward to playing in front of that.
"I probably didn't realise how big the fan base and the club are, everyone has been telling me about that so I can't wait to get started and hopefully I can please the fans."
Conor Coventry is a deep-lying midfielder who won West Ham United's Dylan Tombides Award at the end of the 2017/18 season.
The Republic of Ireland U21 international put pen to paper on a new three-and-a-half year deal with West Ham last week.