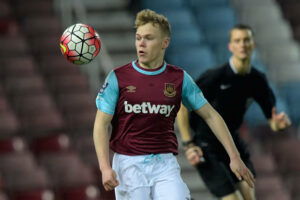 West Ham youngster Anthony Scully heads into the match against Middlesbrough tonight with a three goals from five games scoring record to hopefully maintain.
He has truly stepped up since inheriting the No9 shirt this season after moving from his role as a wide man.
At 20 years of age this may be the breakthrough which catapults him into the sort of form that will regularly attract the manager attention.
He has revealed how much he is enjoying life to the official site @ www.whufc.com and has explained how he came to get the role.
It came about when Oladapo Afolayan's made a loan loan to Mansfield and Scully said: "It feels good, yeah. I've been playing in a different position for just over a month, and I'm really enjoying it up top.
Everything's going well personally, but more importantly, the team got three points on Monday and we kept our unbeaten run going, which is the main thing.
"I've no goal scoring target – I just want to keep playing and see how many I can get by the end of the season. Ideally I'll get a goal every time I play."
Anthony was a goalscorer in the incredible 5-4 comeback against Newport County.
He is playing confidently and is looking at many opportunities in the future, with other clubs potentially wanting to loan him although he is looking at the Hammers first team squad for sure!