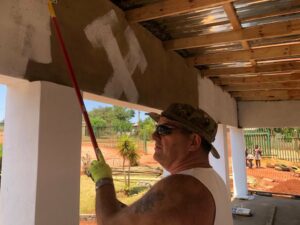 Hammer Graham Malden is a working-class man from East London, his mother was from Shadwell, East London and West Ham runs deep in the blood.
His mother was a big part of his life and in October 2018 he sadly lost her due to old age. Ever since the passing of his parents, he has regularly attended his local church to keep to feel more connected with his parents who passed away.
His growing attendance and presence within the local church community encouraged him to put himself forward for a challenge to break my own fears for the greater good of others living across the other side of the world.
Graham's church teamed up with the Root & Branch foundation who created a mission to fly out to South Africa to build a shelter for vulnerable young females in Munsieville in order to establish a pioneering centre to help transform the lives of seriously vulnerable girls while working in partnership with local Christians eager to serve their community.
The challenge was to also help to improve the wellbeing of children living in South Africa. The school visited by the foundation say that '99% of the girls will make use of this centre'.
Graham saw the opportunity to give something back to life afterraising over £2000 via JustGiving to help buy appropriate tools & materials in South Africa for sustainable shelter.
Graham is an old school West Ham and has been following West Ham home & away since the 1970's.
Our thanks to Graham's son Luke for telling us his dad's African adventure.
Below is a video which shows Graham in South Africa teaching the local children 'I'm forever blowing bubbles' and the Crossed Hammers sign.
My old man has gone out to South Africa to help build shelter for young vulnerable children and he's got the local children singing 'I'm forever blowing bubbles' ❤️ what a champ pic.twitter.com/aGQPO5MEib

— luke maldeni (@lukemaldeni) November 6, 2019