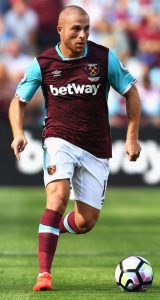 A Claret and Hugh poll to gauge Hammer of the year was hijacked by Turkish football fans.
Gokhan Tore – only included as a joke – received over 934 votes from 2490 giving him 37% of the vote. The Turk, who is back in Istanbul recovery from surgery is worshipped  by Besiktas supporters.
Last week he told the Turkish press that his injury was caused by a team mate tackling him hard in training.
Michail Antonio picked up 877 votes with 35% of the votes while Obiang had 433 with 17%. Other Hammers accounted the remaining 11% of  votes.
It is obvious that Antonio remains the Hammers firm favourite to pick up the coveted Hammer of the year crown with Obiang getting the runner-up award if things don't change.
The official West Ham vote is open to the public so let's hope the Turkish fans don't hijack that too or it could prove to be embarrassing.
Full Poll result on 2490 votes: P