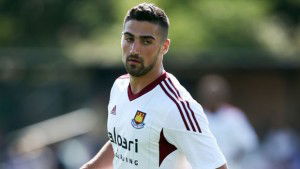 Hammers midfielder Sebastian Lletget looks likely to partner Steven Gerrard in LA Galaxy this summer after being released by the Hammers.
The 22 year old, originally signed for West Ham in 2009 after impressing Hammers scouts while starring for local club Sporting Santa Clara, but never managed to make a Premier League appearance during his time at West Ham.
His lone professional match for the Hammers came in the now infamous 5-0 FA Cup defeat to Nottingham Forest in 2014. In September 2010, Lletget signed his first professional contract with the Hammers and played in a number of preseason friendlies with Ipswich Town and Schalke 04. He signed a two year contract extension in 2013 but was set to be released at the end of this season when his contract expired.
He will now make an immediate move to LA Galaxy upon receipt of his International Transfer Certificate. Steven Gerrard is set to join LA Galaxy in July on a 18 month contract.