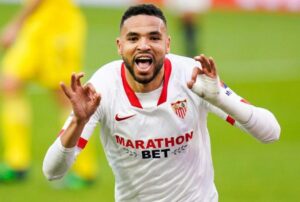 West Ham have finally revealed they have little to no interest in Seville striker Youssef En-Nesyri despite constant speculation across the various Hammers media outlets that he could be on his way to the club.
The player has been linked with us since last summer but with the club having revealed there is money available for a front man his has been the first name to be tripped out.
However, we have spoken to our top contact at the London Stadium who has made it clear that our interest is no more than ten per cent at best.
And he has confirmed the player himself has little interest in leaving Spain which is probably good news given that he has still to score a goal for Sevilla this term.
Our source revealed that money remains available should a decent striker become avaialble but added there were few of them out there and none had been particularly identified.
He said of the Nesyri interst: "There's a 10 per cent or less interest from us.  His goal scoring this season is terrible and he doesn't really want to leave Spain so it is very unlikely indeed."