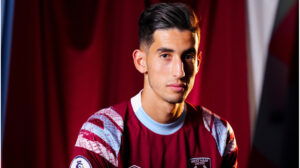 By Hughie Southon
Nayef Aguerd – having been linked with both Manchester City and Newcastle -could be on his way if the right sort of bid were to be made next summer.
David Moyes didn't name him when claiming City's second goal was poor in yesterday's pre match comments but it as clear he held the central defender responsible.
And it is not the first time his mistakes have drawn a response from the Hammers boot room where we have discovered there have been words about his performances in the past.
And it now seems that were offers to be made in and around £50 million by either club – or others – the club would certainly take a look.
David Moyes and Tim Steidten and would be responsible for for scouting a replacement. No decision has been made at all about the central defender at this stage but his form will be carefully watched this term.