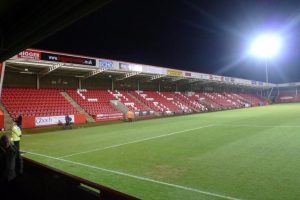 West Ham have received an away allocation of 1,050 for the 7,000 capacity LCI Rail Stadium in the second round tie with Cheltenham Town in the league cup.
Away supporters will be given the Hazlewoods Stand which houses 1,100 supporters.
Tickets went on sale yesterday to home supporters who will pay £16 for adult terraces tickets and £20/£21 for adult seated stands. Kids pay £5 for the terraces and £7 for the seated stands.
West Ham away ticket prices Adults £21, Over-65s £15, Under-18s £7
The 7.45pm game on Wednesday 23rd August will be televised LIVE on Sky Sports but the Carabao Cup game is still expected to sell out at the LCI Rail Stadium.
As part of a special dispensation with the EFL board, West Ham will give up their 45% of the gate money as compensation to Cheltenham Town because the game could not be played at the London Stadium.