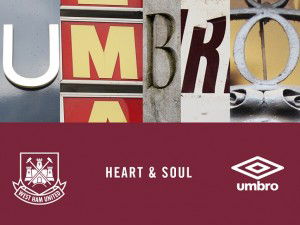 West Ham and Umbro have finally officially announced their  five-year commercial agreement to become the Club's official technical partner from next season taking over from Adidas.
The worst kept secret in football was widely reported back in October last year so the announcement comes as no surprise to many fans.
Umbro was sold by Nike in 2012 to the Iconix Brand Group for £140m and in February last year Umbro announced Everton as their first new Premier League club to start from the beginning of the 2014/15 football season.The Everton deal is claimed to be worth £6m per year  or £30m over five years.
West Ham are thought to have stuck a £4m per year deal worth £20m over years which is double that of our current Adidas deal which earned the Hammers £2m per year and £4m over the length of the two year contract.
When added to the £20m deal already agreed with Online betting company Betway who signed a three and a half year sponsorship deal earlier this year it brings an extra £40m of funding in the coming to invest.