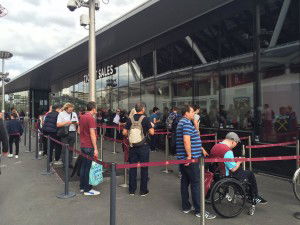 West Ham has announced further details on ticket credits or refunds following the announcement last Friday that the remaining 92 fixtures would be played behind closed doors.
The club has emailed all 54,000 season ticket holders and as well publishing an article on WHUFC.com this morning.
The new update says:
SEASON TICKETS 2019/20 
Now that it has been confirmed that our final five home fixtures of the 2019/20 campaign will be played without supporters present, the Club can confirm that our valued Season Ticket Holders and Club London Members have been credited the pro-rata value of the remaining five home matches, which can be used to reduce the cost of their 2020/21 Season Ticket, or receive a refund. The same applies for Women's Super League Season Ticket Holders.
Opting to take a credit is an easy and convenient way for Season Ticket Holders and Club London members to instantly guarantee their seat for next season without having to wait for the renewal period, with all supporters benefiting from the price freeze that has been confirmed for 2020/21 Season Tickets*, as well as, of course, helping to support the Club through these testing times.
Additionally, Club Cash balances have been extended to 31 July 2021, so supporters can credit this against their 2020/21 renewal safe in the knowledge that funds will be held securely and will be used only upon their confirmation when the 2020/21 renewal process is opened.
MATCH TICKETS 2019/20
West Ham United can confirm that a credit has been issued to the value of each General Admission and Club London match ticket purchased for any outstanding Premier League home fixture in the 2019/20 campaign, with the option to use that credit for any future match including the equivalent seat for the most sought after fixtures or the corresponding fixture in the 2020-21 season if played in front of fans, or receive a refund.
The same applies for any away tickets purchased for Premier League fixtures or any outstanding home Women's Super League fixtures.
 
SEASON TICKETS 2020/21
The Club will work with our fans in these times to support any Season Ticket Holders and Club London Members who wish to retain their seats in the event of a change of circumstances. 
We are unable to make any further comment on plans for the 2020/21 campaign at this point but would like to reassure supporters that we will personally contact all Season Ticket Holders and Club London Members at the appropriate time with further information.
FURTHER UPDATES
The Club has directly notified every supporter of their options and the process for credits and refunds to be administered. Our Ticket Office and Club London account teams are on hand to personally answer any questions supporters wish to ask following the receipt of their communications. We'll continue to keep Season Ticket Holders and Club London Members up to date directly with information, including about your 2020/21 renewal at the appropriate time.
Claret and Hugh say:
The club has done the right thing in allowing supporters to claim a cash refund or use the credit as a deposit for next season. West Ham first announced their policy on 20th May via email and the official website promising a follow up with more details. Yesterday, the club's ticketing partner begun transferring the refunds to club cash balances to allow the new email and announcement to be released this morning.  The club has also an announced that season ticket prices will be frozen as long as the Hammers remain in the Premier League.
Refunds have been calculated as 5/19th's of the price season ticket holders paid for their seat. So divide the price you paid by nineteen and multiple by five.
Other general tickets and away tickets have been refunded in the same way at full value of the price paid.
Supporters are required to call the ticket office to claim a cash refund to their bank card although the club will be hoping many support the club's precarious financial position by leaving the money as a credit in club cash against future a season ticket renewal.