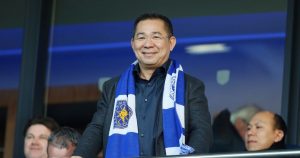 West Ham have sent a message to fans attending tonight's Carabao Cup match in which they speak of the club aims to honour the memory of those who died in  the tragic helicopter following Saturday's game at Leicester.
It reads: "As the West Ham United family gathers together at London Stadium tonight, there remains a profound sense of sadness following the devastating tragedy that claimed the lives of five people, including the Leicester City owner, at the weekend.
Like all of us, Vichai Srivaddhanaprabha loved football. On Saturday evening, he was doing the same thing as every one of the 31,848 people inside the King Power Stadium – supporting his team with pride and passion, hoping to see an entertaining performance and a winning result, and sharing the joy and beauty of our game.
The thought that someone might attend a football match and not return home safely to their family afterwards is something that we all find very difficult to comprehend. We have all been touched by the tragic circumstances surrounding the loss of a man who made such an immense contribution to his club, the city of Leicester, and English football in general.
The football family has rallied round in support of Leicester City over the past few days, and we at West Ham United will stand shoulder to shoulder with Tottenham Hotspur this evening to pay our respects and offer our thoughts and deepest sympathies to the families of the victims and the people of Leicester.
Prior to kick-off, we will honour the life and achievements of Vichai Srivaddhanaprabha and the four other victims of the tragedy. We know that all supporters will join us to pay tribute in a fitting and appropriate manner.
Once the match kicks off – and throughout the evening – we must also remember that every supporter attending the game is acting as an ambassador for West Ham United and their behaviour should always reflect the values and standards that we hold dear.
West Ham United is an inclusive football club. Regardless of age, race, disability, religion, sex, gender reassignment or sexual orientation, every supporter within our diverse fanbase is warmly welcomed at London Stadium, free to enjoy watching their team play football without fear, discrimination or abuse. And we remain committed to ensuring that every single member of the West Ham family feels safe, respected and included.
Let us again prove this evening that there is simply no place in football for abuse, discrimination or bigotry of any form. In the event that you happen to see or hear anything inside the stadium that you feel is unacceptable, it is important that you report anything of this nature to the relevant authorities to ensure it is investigated fully.
In the first instance, you may choose to speak to the nearest steward or police officer. Alternatively, you can report any unacceptable behaviour anonymously by texting or calling 07860 404069, where all information provided will be treated in the strictest of confidence.
We, and everyone else at West Ham United, believe in the positive power of our sport to bring people together and provide comfort in times of difficulty. Tonight we urge everyone to show the world what being a football fan is all about – supporting with pride, passion and respect.