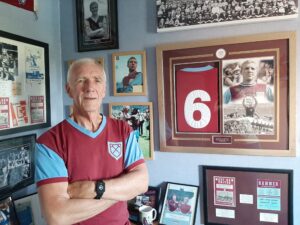 By CandH's top blogger Allen Cummings
As we approach the end of the year, and close in on the half-way point in the season, it might be interesting to look back to see just how things this time around compare to the similar period last season.
That was one like no other where we went on to record our highest ever points total (65) coupled with a record number of victories (19) .
One or two voices may have been raised recently because of our defeat to Arsenal at the Emirates – coming on top of the disappointing draw with relegation threatened Burnley the week before – but the stats show we're doing more than ok.
Our last league fixture before Christmas last season was a 3-0 defeat by Chelsea at Stamford Bridge. Following that game we were left occupying a mid-table position, sitting as we were in 10th place with 21 points from 14 games.
We'd scored 23 league goals (including one og) with Jarrod Bowen and Tomas Soucek our top marksmen on four goals each. Michail Antonio had three to his name while Pablo Fornals had yet to find the back of the net.
This season's final league game before Christmas should have been against Norwich City last Saturday – but because of Covid it's now recorded as the reverse against Arsenal.
That result left us in fifth place in the league with 28pts having played 17 games, with a goals for figure of 28 (including two ogs). Mickey has doubled his own tally to six goals so far, Pablo Fornals has improved massively scoring four times already with Bowen and Said Benrahma notching three apiece and Tomas just twice.
We are seven points better off this season having played three games more. I'm sure David Moyes would have settled for where we are at this point in time.
The problem he has now is that expectations levels have risen because of what was achieved last season, so any kind of stutter runs the risk of being over analysed and possibly over criticised.
Last season of course when the new year began we were given a massive boost by  the form and goals of the incoming Jesse Lingard.
Whether Lingard can be persuaded back again is, and has been, the subject of continued speculation. If it's not him then hopefully David Moyes will be able to pull another rabbit out of the hat, with the same effect.
Graeme Souness was at pains to point out on Sky at the weekend he believes West Ham are now a genuine force to be reckoned with at the top of the league. He clearly has faith in us – the stats show we should also sharing in his optimism?