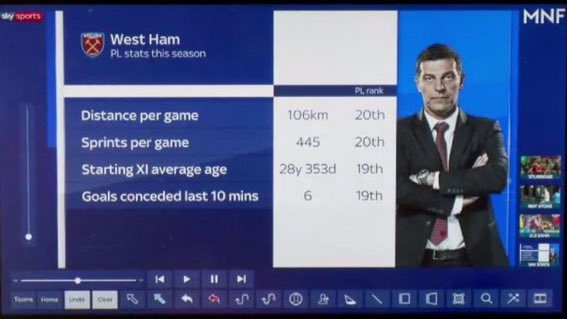 Love them loathe them, statistics give a different perspective of a problem as to where the potential source may lay.
West Ham are 20th out of twenty Premier League sides with regards to the distance covered per game this season at 106Km per game.
Sprints per game and the Hammers are also the bottom of the pile averaging just 445 sprints per game.
We have one of the oldest starting lineups with an average of 28 years and 353 days.
Finally, we have conceded 6 goals in the last ten minutes which is the second worst in the league.
Unsurprisingly we need to improve our fitness, run more, get younger players in and concentrate for the last 10 minutes.
Simple really!  Sack the 69-year-0ld fitness coach and replace him as soon as possible, train the squad longer and harder, inject some younger legs into the team and see the game out in the last ten minutes.