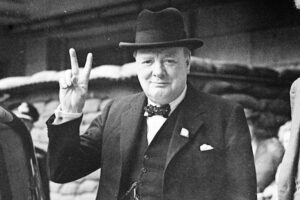 Today marks the 75th anniversary of VE day  (Victory in Europe) after the end of world war two.
On 8 September 1939, the Football Association (FA) declared that all football leagues were suspended 'until official notice to the contrary'.
In 1939, the threat of air attack and the introduction of conscription made it impossible for football to continue as before. However, on 21 September, the Home Office agreed to allow a revised programme of football as long as it didn't interfere with national service and industry. Crowds were limited and a smaller regional War time league and cup programme was created.
Many players were called up into the forces or drafted into war work. Grounds were also badly affected by air raid damage and changes of use.
West Ham wasn't immune and in August 1944 a V-1 flying bomb (also known as a doodlebug) hit the south-west corner of the pitch.
The bomb destroyed a large amount of the South Bank Terrace (Bobby Moore Stand) and the end of the Main West Stand at the old Boleyn Ground.
No one died, but the damage was significant enough that West Ham had to vacate their ground. The Hammers played 14 away games while repairs were made, returning to the Boleyn Ground in December 1944.
In 1946–1947 season, the football league was then returned to pre-war four divisions, First Division, Second Division and Division 3 with its north-south split