Manchester City 2 Irons 0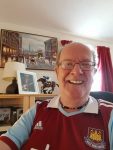 By Hugh Southon
Well it wasn't the battering many had expected but there's not much to say beyond that!
Manchester City controlled the game – as expected – from start to finish and completed the victory via goals from first and second half strikes from Rodri and De Bruyne.
They were denied a penalty and created a bunch of chances which went begging often more by luck than judgement.
But having said all that to keep the scoreline to just a two goal difference will create some confidence in the Hammers camp.
Avoid a humiliation at Liverpol on Monday night and we could be reasonably well placed to push on with the survival bid over the last 11 games.
Declan Rice was my man of the match for us whilst Tomas Soucek was very effective and has a nice habit of getting into the box on some long raking runs.
We didn't see Jarrod Bowen until late on but he showed enough to suggest that he really is going to be a very tidy signing for the club.
Still in the bottom three but no worse off than we were this time last week and it's now all about getting Liverpool out of the way without it turning into a disaster.