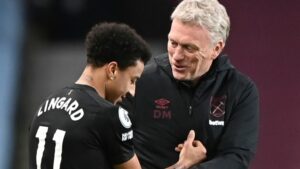 Further confusion will now surround the future of Jesse Lingard following the sacking of Ole Gunnar Solskjaer today.
The Manchester United boss was finally fired but will pick up a cool £7.5 million for failure with the team in seventh place.
Lingard's future seemed pretty well cut and dried given his lack of match time this term but with former Hammer Michael Carrick now in charge at Old Trafford until the end of the season that could of course change.
It will now become a time also for the 28 year old to demonstrate he wants to stay at the club given he may have the chance of more minutes or whether he wants a London Stadium return..
With Hammers summer signing Nikola Vlasic failing to sparkle after apparently being bought as a permanent replacement it presents David Moyes with a problem.
Claretandhugh has learned that agents have been having regular conversations about Lingard's future but we are no seemingly back at square one.