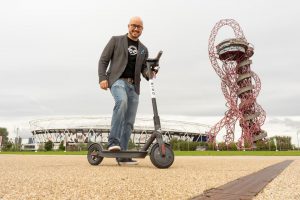 Bird have became the first electric scooter service to launch in the U.K. this week, after finding a legal loophole in an 1835 law that has so far banned powered scooters. The launch is part of a pilot at Queen Elizabeth Olympic Park, which will start with scooters being restricted to a 1-mile stretch of private footpath close to London Stadium where West Ham play.
The launch will see 50 scooters available to rent for £1 scooters plus 20p/minute. Bird have approval from the Olympic Park to expand the trial to 100 scooters as demand grows.
Bird riders will be asked to disembark in order to cross the two or three roads that cut across the footpath, secondly, it means the GPS geofence that controls where the scooters can be used to disable the scooter outside the permitted zone.
Bird says it will also restrict its scooters' hours of operation to between 7 a.m. and 9 p.m., with additional restrictions and removal of the scooters when West Ham is playing football meaning travel to the London Stadium for supporters will be banned.