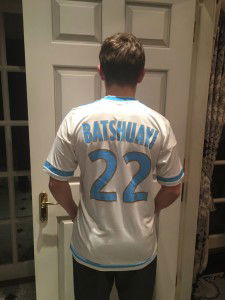 Chairman's son Jack Sullivan tweeted that West Ham made a late bid of £32m yesterday for Michy Batshuayi.  "We bid 39m euro Batshuayi and it was accepted yesterday by his club, but he chose another PL club ahead of us, Chelsea ?" said young Jack this afternoon.
Yesterday Crystal Palace thought they had done enough after submitting a 38m Euro bid (£31m) on wages of £110,000 per week.  If Jack is to be believed we outbid Palace by a further million Euros before Chelsea came over the top of both its London rivals to meet the 40m Euros (£33m) asking price today.
Batshuayi's Twitter account showed he had recently begun following the Football Association, Premier League and Chelsea social media accounts just hours after it was revealed that Antonio Conte had identified him as a transfer target.
Now sure how many starts he will get in a Chelsea shirt this coming season. He might become one expensive super sub.