by John Davison
With West Ham United manager David Moyes securing another good seventh place finish in the Premier League in the 2021/22 campaign, everyone was hopeful the club would continue to kick on further in 2022/23, but sadly that has not been the case on a domestic front.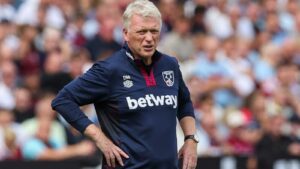 Eight games into what has already been a very disruptive season, and it will only get worse when the English top flight pauses for the winter World Cup out in Qatar, Moyes has seen his side lose five of our opening seven matches, but on Saturday we took a much needed, and deserved, victory over Wolverhampton Wanderers to register our second win of the campaign.
Looking at the football betting website https://betting.com/gb/, which had a range of different ways to bet on this match, those who backed the club to pick up the second win of the year would have been very pleased to see their confidence rewarded.

Having kept the clean sheet at one end of the pitch, attackers Gianluca Scamacca and Jarrod Bowen powered us to a pretty comfortable win and the points lifted us up into 15th place in the table. With four wins secured in the Europa Conference League, confidence should not have been an issue, but on a Premier League front something just was not clicking.

Moyes will be hoping Wolves proves to be a turning point on that front given as we now enter the fixture crush heading towards November's break, we have some very winnable games coming up and Hammers fans would be quite optimistic of picking up successive back to back wins over the likes of Fulham, Southampton, and then all three points from the AF Bournemouth clash before the month comes to a close.

Even though we have to face Liverpool and Manchester United in October, securing maximum points from the above three matches would certainly reduce the pressure that has built on Moyes in the opening seven games, but there are those in the fanbase who feel that the pressure was unwarranted given the ridiculous Video Assistant Referee decision in the Chelsea game which denied us a point, and then we only needed one chance to go in (given the number we created) to take victory in the Nottingham Forest game and a four point change would certainly alter the perception of our start to the year.

Moyes was understandably happy following the Wolves result, but he knew we had to build on it now.

He said: "It was really good. Some of our games have been really close. We've lost a few narrowly and had decisions go against us. We got over the line today. I don't think we played as well today as we have in other games. Two good finishes. It's good those boys are on the scoresheet and hopefully it gives them confidence. Wolves are a good footballing team. We had to be patient and try to turn them over at the right moments. Gianluca Scamacca did really well for us today. People ask why we're not playing him. But he needs to get a level of fitness and used to the Premier League. After 60 minutes we had to make a change. He led the line for us today. We're really pleased with him today."

Let us see what the remainder of October brings, but hopefully we will go into November in much greater spirits.