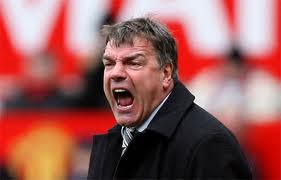 West Ham United are caught between a rock and a hard place over Sam Allardyce's future!
And should the club to emerge from the next two games against Liverpool and Sunderland at home with no more than a point then the hard question will be discussed for the first time.
But the complicating factor in the possible 'sacking scenario' also includes Andy Carroll as the club bigwigs want to give the manager a chance of working with the player.
Claretandhugh has learned that until last night's defeat by Crystal Palace the manager's future had never been discussed.
However, the devastating 1-0 defeat at Selhurst Park has for the first time sharpened the possibility of a Hammers future without the current boss.
We were told this morning: "Nobody saw that coming. Sam's future has never been discussed but were we to lose at Liverpool and fail to beat Sunderland the question would have to be raised."
The big sticking point is however, that the club don't believe it would be fair to terminate the manager's employment until he has been able to include Andy Carroll in his plans.
However, in the new mood of realism sweeping through Upton Park – and with Carroll probably not fit to return until December 28 for the match against West Brom – things may have deteriorated to the point where a decision needs to have been made.
The Hammers have a very tricky run of fixtures following the Sunderland game with Tottenham and Manchester United (away) and Arsenal at home.
A series of defeats may mean the axe will have to be wielded before a fully fit Carroll can make any impact on the situation.