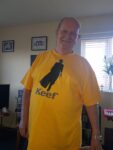 By Hughie Southon
West Ham United reported to have donated £9,000 of club money to the Conservative Party in 2022, according to new documents released by the Electoral Commission.
The Hammers had also donated £12,500 back in 2016 – the only other listed donation from the club since their current owners took charge in 2010. West Ham vice-chair Karren Brady, who previously served as a director with Birmingham City, has been a Conservative peer since 2014.
And tonight a source told Claret and Hugh: "It was for a dinner our sponsors wanted to go through. Indirectly it brought in far more than £9k !"
As detailed in the Electoral Commission's political finance register, West Ham's donation was made on September 26 and accepted by the Conservative Party on October 3.
Data from the Electoral Commission reveals UK political parties received more than £14,779,158 in donations in the fourth quarter of 2022. The Tories, with £4,744,114, account for the biggest chunk of the overall total.
Claret and Hugh says: This is not a site which involves itself in politics but on this occasion we need to make it clear that this is something with which we could not disagree more strongly. The colour of our politics doesn't matter. What does is that that a percentage of our season ticket money and merchandising spend, however small,  may have has been used to support anything other than our football club. Having said that I am not afraid to show my political petticoat and make it clear that I am very angry – though not surprised – that a penny of my cash should have found its way into that particular party's coffers and will be not buying anything from the club shop in future as a result. That's not what the cash should ever be used for regardless of what the Tory Baroness and others may or may not think!.