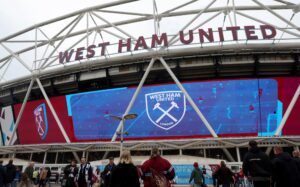 West Ham will receive 4,000 tickets should the squad qualify for the  2022/23 UEFA Europa Conference League final will take place at Prague's Eden Arena on 7 June 2023
A total of 16,500 tickets of the  20,800 (the stadium's capacity for the final) will be available for fans and the general public to purchase.
The teams that reach the final have received 4,000 each, with the remaining 8,500 tickets being offered for sale to fans worldwide via UEFA.com.
The remaining 4,300 tickets are reserved for the Czech Republic local organising structure, UEFA and national associations, commercial partners and broadcasters.
Should West Ham get through to the final tickets are likely to go to Bondholders, Club London members and season ticket holders with the highest priority points.
That means the others wanting a ticket will gave to take their chance via a public ballot on the UEFA website.
An Easyjet flight to Prague on 5th June currently costs around £250 return.