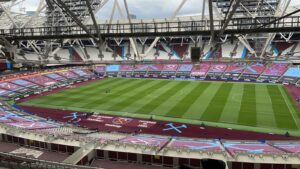 West Ham United's final three 2019/20 Premier League fixtures have been moved, the Club has confirmed.
The Hammers penultimate home fixture against Watford will now be played at London Stadium on Friday 17th July at 8pm, with the match being broadcast live in the UK by Sky Sports.
West Ham's away fixture to Old Trafford to face Manchester United is on Wednesday 22 July at 6pm screened by Sky Sports.
The Hammers will end the campaign at home to Aston Villa on Sunday 26 July at 4pm, with broadcast details to be confirmed at a later date.
Before then, West Ham travel to Newcastle United this Sunday 5th July for a 2.15 pm kick-off (Sky Sports), before hosting Burnley on Wednesday 8th July at 6pm (BT Sport) and visiting Carrow Road to tackle Norwich City on Saturday 11 July (12.30pm) also on (BT Sport)
Remaining Wets Ham Fixtures:
Newcastle v West Ham  Sunday 5th July 2.15pm  Sky Sports
West Ham v Burnley Wednesday 8th July 6pm BT Sport
Norwich City v West Ham Saturday 11th July 12.30pm BT Sport
West Ham v Watford Friday 17th July 8pm (Sky Sports)
Manchester United v West Ham Wednesday 22nd July 6pm
West Ham v Aston Villa Sunday 26th July 4pm