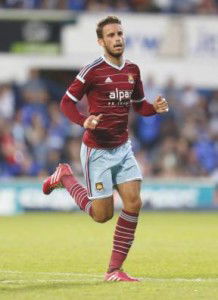 West Ham have this morning confirmed that Diego Poyet is on his way back to the Valley for the rest of the season.
The former Charlton midfielder will be with his former club until the end of the season when a permanent deal could be under discussion.
Poyet only joined the Hammers 18 months ago but was ignored by the former manager and the arrival of such as Manu Lanzini, Dimi Payet and Pedro Obiang have pushed him right out onto the sidelines.
Having recalled him from MK Dons where the plan was to allow a season-long deal there has been a change of heart presumably brought on by the chance of a permanent deal at the end of the season.
A Hammers source told us: "He is on his way back to Charlton and we'll see what develops over the rest of the season."