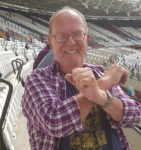 By Hughie Southon
There may be a simple answer to the confusion I suffered as I watched the second half of the game at Cambridge United last night,
Unfortunately, after a night's kip I am still unable to reach a conclusion as to why the manager decided to bring five under 23s into the action.
Don't get me wrong. I am usually more than happy to see our youngsters get chances given the reluctance to promote them to the first team squad, but I still can't quite accept that last night was the right time and place.
As the second half progressed, he chose to introduce five and before going any further let me say that goal scoring Pierre Ekwah was deeply impressive
That, however, is another issue and what confused me was why, given this was a game to get the Premier League lads up to fitness, they were out there at all.
Pre-season friendlies are an entirely different thing to the purposes of last night's game and surely shouldn;t have been used in the same way
Like I say, it was nice to see the youngsters in one respect but there remains a big WHY? in my mind.
Cambridge United are barely much better than many Premier League 2 teams so the manager is hardly going to learn much more about them than he already knows.
I'll leave it to you lot to give me a clue.