By Sean Whetstone
West Ham continues to borrow money from Michael Dell's MSD Holdings despite Daniel Kretinsky's investment of £125m in the club.
Part of that money was used to pay off legacy shareholder loans to the tune of £58.1m to Gold and Sullivan plus £9.5m to Tripp Smith. The club also repaid £25m of £80m borrowed from MSD Holdings.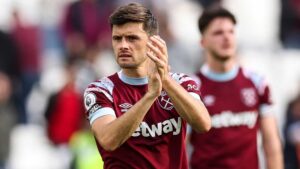 That leaves £55m outstanding to MSD Holdings on an interest of around 9%, which is not due for repayment until 2026 if not repaid early.
West Ham paid a total of £8m in interest on loans last season, which is £1m lower than the £9m they spent the previous year.
West Ham's Net debt was wiped out and went from £89m to minus £41m, meaning they have a surplus instead of a deficit, a great financial position to be in.
At the end of May last year, West Ham had a massive £96m in their bank account, which could explain why they spent first instalments for £155m of summer transfers and £18m of add-ons.