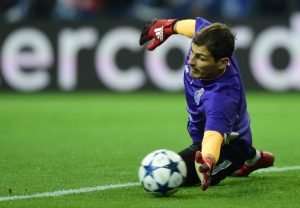 According to  Spanish website Don Balon, the former Real Madrid and current Porto goalkeeper Iker Casillas could sign for a Premier League team in the summer, with Casillas himself said to be prefering a move to London.
That report has inevitably led to link all London Premier League sides although West Ham were not actually named in the article.
Casillas ended his legendary 16-year spell at Real Madrid back in 2015 when he joined Porto, having left the club under somewhat acrimonious circumstances after a massive drop in form.
He has since somewhat reignited his career and has hit several milestones, including becoming the player with the most Champions League appearances in history, overtaking Paolo Maldini earlier this month.
Don Balon claim that Casillas' partner would prefer a move to London and the goalkeeper himself is also attracted by the Premier League. Casillas will be available for free at the end of the season unless Porto choose to activate a one-year option they have on his contract but the 35-year old could push for a move should Arsenal  or West Ham show serious interest.
West Ham's current Spanish keeper Adrian contract also runs out this June unless the club decide to activate an extension option.