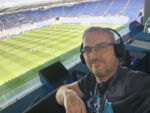 By Gonzo
My first reaction upon hearing the news that Amadou Onana would prefer to join Everton ahead of West Ham was to 'call his bluff'. The suggestion was that the 20 year old Lille midfielder favoured Frank Lampard's Goodison Park project ahead of the Hammers European campaign.
The whole story stank of agents attempting to increase the allure and urgency of signing a player and thus secure a hefty wage hike. The rumoured wages requested by the player and his agent(s) were believed to be £135,000 per week which for a 20 year old with no experience is on the high side.
Clearly Moyes, Newman, Sullivan or whoever else you believe negotiates for us thought that was rather excessive too.  So the old tactic of trying to leak competition for a players signature was employed by the agents in an attempt to secure the bountiful pay-day.
I could bore you to sleep with details about the owners (Farhad Moshiri) finances, Alisher Usmanov's frozen funds or the forced sale of Richarlison to avoid financial fair play sanctions.
Suffice to say I believed that if Everton had a spare £40m and £135k wages hidden under the floorboards they'd probably not have sold their Brazilian talisman or held meetings with Peter Kenyon's takeover consortium.
We now hear that West Ham have called 'Team Onana's' bluff and withdrawn from the deal. despite seeing him as a possible future Declan replacement. This is exactly what I'd expect as a counter-move in the game of transfer chess because it forces the players representatives to either join Everton or reduce their wage demands.
If Everton can afford to pay an inexperienced player £135,000 per week then I'd suggest that we were never really in the game and nor should we be.
The negotiations have already been far too difficult for a rookie player who should be delighted to move to the West Ham and play in Europe. Regardless of his potential we can't pay him more than Jarrod Bowen, Declan Rice, Michail Antonio and the rest of the first team stars so I really don't blame the club for withdrawing from negotiations.
West Ham's signings so far this season have all appeared very keen to join and in the case of Scamacca he rejected other clubs to sign for the Irons. The last thing we need is a player who believes he's doing us a favour.