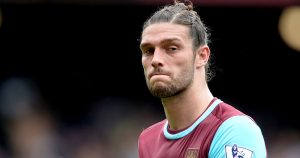 A West Ham insider has messaged Claret and Hugh to say that social media rumours that Andy Carroll refused to take part in a community event are completely false.  A post on Instagram which was then widely circulated on the Internet falsely claimed the striker: "Had an argument with the West Ham foundation and refused to help out suggesting he would be happy to pay a fine instead"
In fact, we are told the 29-year-old Hammer was sent home from the Players' Project event by the club as he was sick and they were worried he would spread his sickness to other members of the squad. 
Carroll is scheduled to play in a private friendly against Brentwood on Thursday as Manuel Pellegrini searches for a backup for Marko Arnautovic in front of goal.
"Andy is close to coming back. He has started working with the squad a little but not 100 per cent," said Pellegrini last week in his press conference adding "He will work again this week and on Thursday we are going to play a friendly game and we hope that Carroll can play some minutes."