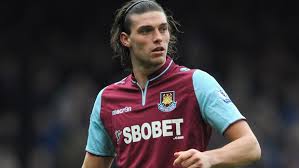 CLARETANDHUGH
EXCLUSIVE
West Ham United have – within the last few minutes – decided they will not be taking the Football Association to court regardless of what happens at today's new hearings over Andy Carroll's red card!
It had been widely reported that should they fail in a new bid for arbitration the club would take legal action ahead of tomorrow's game against Aston Villa.
But within the last few minutes ClaretandHugh has exclusively learned  that the club are ready to let the matter be settled by 'the football family.'
West Ham's co-owner David Gold – in a statement to Press Association Sport last night – claimed the club may be left with no alternatives but to go to High Court.
But with the FA now agreeing to a meeting which is currently taking place – possibly followed by a new arbitration hearing this afternoon – it seems there has been a big change of heart.
We were told the FA's decision to look again had changed the face of things and that West Ham were now happy with what has been set up by the game's ruling body.
A source said: "Everybody wants this settled within the framwork of the game and we want to abide by the will of the football family.
"Court proceedings were a possibility but there's a willingness from teh FA to look again and that seems the way forward.
"However, it has to be settled before tomorrow's game because if it isn't a set of new complications could arise."