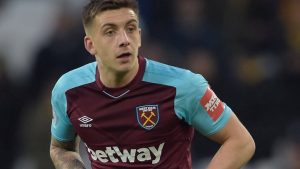 Both Jordan Hugill and Sam Byram have been available for sale this summer but the club have received no offers for a permanent transfer for either player so far.
Hugill joined the Hammers from Preston North End under David Moyes in January this year for a transfer fee which rose to £10.2m but has failed to realise his potential.
Sam Byram joined from Leeds in January 2016 under Slaven Bilic in a deal worth £4.3m but has also failed to make an impact after being dogged by injuries.  Byram has dropped down the right back pecking after the signing of Ryan Fredericks this summer and Pablo Zabaleta last season.
The club have received a number of loan offers from Championship clubs for both of the players but would prefer to sell.
Hugill has been linked with a loan deal to Leeds, QPR while Byram has been linked to a loan to either Nottingham Forest and Leeds.
A club insider confirmed: "Both Hugil and Byram are for sale, numerous clubs want to loan, but no buyers so far"