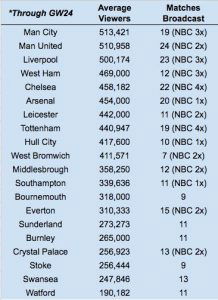 West Ham have the fourth-highest Premier League viewing figures in the United States new figures reveal.
Manchester City top the charts with an average of 513,421 viewers for each of their 19 matches shown live, whilst Manchester United has 510,958 from 24 matches on average. Liverpool follow up in third place having a 500,174 average from 23 games shown live.
In fourth place is West Ham with an average of 469,000 watching each of the 12 matches broadcast State side.
Chelsea, Arsenal and Spurs all have lower viewing figures than the Hammers.