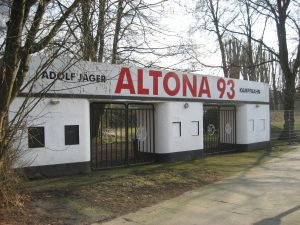 West Ham will play Hamburg-based club Altona 93 in the third match of the German leg of their European tour this summer.
The Hammers will face the fourth tier German side on Tuesday August 1st at 6.30pm local time (5.30pm BST), following on from the Betway Cup double header against Werder Bremen.
The match will take place at Altona's Adolf-Jäger-Kampfbahn stadium – a 10,000 capacity venue in the west of Hamburg.
Hammers supporters can purchase their tickets for all three games in Germany now, with full details available here.
First team pre-season schedule
July 10-21: Training camp in Austria
July 24-August 3: Training camp in Germany
July 28: v Werder Bremen (Schneverdingen, Germany)
July 29: v Werder Bremen (Lohne, Germany)
August 1: v Altona 93 (Hamburg, Germany)
August 4: v Manchester City (Laugardalsvöllur, Reykjavik)
*Please note that all fixtures are subject to change.