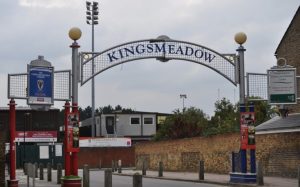 West Ham United will face AFC Wimbledon in the Emirates FA Cup fourth round on Saturday evening of 26th January 2019 at 7.45pm, with the tie being broadcast live in the UK by BT Sport.
Although ticket details are still yet to be announced West Ham is likely to get an away allocation of 675 tickets for the FA cup away draw, the same amount they received when they played the Dons in August in the second round of the Carabo cup.
The FA Cup rules say that a minimum of 15% of the available tickets must be made available to the away club. In the case of the Chelsea owned Kingsmeadow stadium that would be just 727 tickets from their 4,850 capacity stadium for the cup game in Kingston, Surrey but segregation lines could reduce that number.
Liverpool visited Kingsmeadow in 2015 and were allocated 825 tickets in the FA Cup third round as the Premier League outfit beat them 2-1 thanks to two Steve Gerard goals. However, that was subject to the local Safety Advisory Group (SAG) agreeing to that ticket allocation number.
Demand for tickets will be high among the Wimbledon fans meaning little chance of getting a home ticket.
Last August West Ham held a ballot for West Ham Away season ticket holders who are thought to number over 600 after Bondholders who number 808 got their normal priority so the chance of tickets being sold to home season ticket holders with priority points remain unlikely.