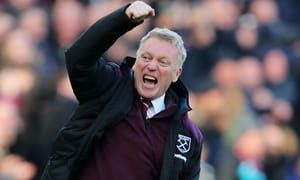 Nearly 89% of West Ham fans who voted in a Claret and Hugh Christmas poll believe David Moyes will avoid relegation despite picking up just one point from the last two winnable games. The poll of nearly 1,500 Hammers fans was taken over Christmas following the loss against Newcastle but before the Bournemouth away game.
Just 11.14% of those who voted believe the Hammers will suffer relegation this season with 8.6% saying we will just dodge a bullet in 17th place. 12.98% say the 16th spot is more likely and 21.37% say 15th place.  The biggest majority of votes 28.63% went for 13th to 14th position with 13.75% saying an ambitious 11th-12th place. Just 3.52% believe we could still finish in the top ten of the Premier League.
The poll is a big vote of confidence that the manager has what it takes to avoid the drop and steer West Ham away from the relegation zone.