Simon Jordan has dropped his verdict on West Ham accepting UEFA sanctions for crowd trouble during their clash with Genk in Belgium.
Crowd trouble marred the fixture and we revealed yesterday that the reason for the governing body banning Hammers fans from travelling to Vienna for the clash with Rapid Wien was the storming of the gates of the stadium, despite not having tickets.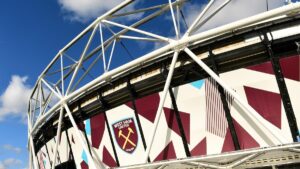 The scenes mirrored those seen at Wembley before England took on Italy in the Euro 2020 final, and the Hammers have also been hit with a five-figure fine.
The Hammers have since confirmed that they do not intend to appeal the sanction, swallowing the fact that supporters will not be permitted to watch their team play in the Europa League next week.
And Jordan, the former Crystal Palace chairman, insists that the Hammers did not have a leg to stand on when it came to appealing the sanction.
Speaking on talkSPORT, via West Ham Zone, Jordan said: "They can't defend the indefensible.
"I suspect, on the back of what happened at Wembley from fans thinking they can stampede a stadium to get in because there were seats available, and then West Ham fans, only 150 fans but notwithstanding 150 fans, doing something that looks and smells something like that, it's a hot potato and West Ham are looking at it going 'what's our argument?'
"It comes on the back of some silly fans behaving with some stupid anti-semitic abuse on a plane and West Ham don't want it, they'd don't need it.
"It's probably sensible decision-making processes from Karren [Brady] and whoever else."