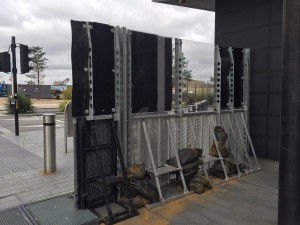 We are receiving reports  this that West Ham fans are being forced the long way round to the reach the London Stadium this afternoon. Thousands of fans walking through Westfield shopping centre from Stratford train and underground stations were able to take the direct route for the first four West Ham games taking an exit from the shopping centre close to the Cow pub which is very popular with West Ham fans.
We have been told that this exit has been closed off for today's match but stewards guarding the barricaded exit couldn't explain why the route has suddenly changed.
One steward told a ClaretandHugh reader "I think it has something to do with the council" 
Authorities want to funnel West Ham supporters in pre-defined routes using Stop and Go signs and herded like cattle to and from the station. Although we have been told there was a small amount of trouble at the exit with fans upset at being denied exit we have been told the unrest was dealt with by stewards and the police were not called.
West Ham fans now are being forced the long way round in which they come back on themselves to access to London Stadium.