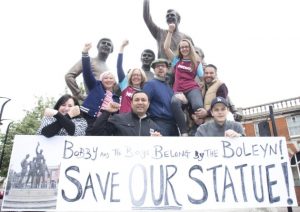 West Ham fans want the Champions Statue on the corner of Green Street and Barking road to remain as a permanent reminder of the connection between West Ham and the local area.
ClaretandHugh ran a poll on Sunday after the Daily Mail ran an article over the weekend which suggested that locals were opposing the relocation and wanted the statue to stay. The Mail quoted a three year old club poll in which they claimed 87 per cent of Hammers fans wanted it to move.
However an  up to date poll  voted on by cover 1,300 supporters suggests the opposite with almost 70% saying they want the Champions statue to remain where it is.
Poll results:  Total Votes: 1,324
Yes, it should come with us to the London Stadium  
A Newham council spokesperson told ClaretandHugh: "No decision has been made on whether or not to relocate the statue. Any such decision would  have to be made at a future Cabinet meeting. Stringent conditions have been placed on the relocation of the Champions Sculpture to Queen Elizabeth Olympic Park that must be met before any move is agreed. Councillors agreed that it could only be moved once a fully funded plan was in place to improve the junction in Barking Road, where the sculpture currently stands, after it has been relocated. The conditions also included the installation of a piece of public art linking the area to West Ham United and that the road improvements and the costs of moving the sculpture should be funded by partners."