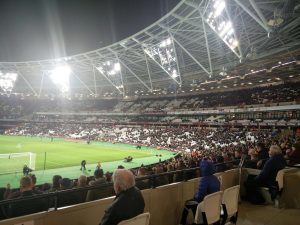 Seventy one percent of West Ham fans would back sanctions to West ham season ticket holders who don't regularly used their seats during a season.  Thousands of season ticket holders are missing from each league game with real attendances for the Arsenal home around 6,000 lower than the stated figure and the Stoke City home match around 10,000 less than the official attendance figure.
The average non attendance of season ticket holders in the Premier League is around 10% so the Arsenal game falls with in that average while the Stoke game is way above.  The problem is thought to stem from the club's plus two migration strategy which saw ten thousand Under 16's season tickets purchased for just £99 each which just over a fiver per game.
Although all season ticket holders have the option of listing their seats on ticket exchange when a game is sold out it is painfully obvious that many are failing to do so especially in the case of U16 tickets when they receive just a few pounds back per game.
Last year Arsenal Supporters' Trust wrote to the Arsenal board asking them to consider sanctions for those who continuously fail to attend games throughout the season. The Trust's idea was they should lose their priority to renew their season ticket the following season if they failed to make good use of it. It is a use it or lose it policy. The Arsenal board have yet to implement such a scheme but a twitter poll of 616 West Ham supporters shows that 71% of those who voted who have sympathy with such a scheme should the Hammers board wish to implement it.
The amount of empty seats are highly visible in the ground and on world wide TV and it is possibly made worst with by the white seats which make the gaps stand out. The club has encouraged season ticket holders to make use the ticket exchange service if for no other reason then to allow other on the waiting the chance to watch games when season ticket holders can't make the matches.