WEST Ham fear that Adrian may turn down a contract offer this summer in order to advance his Spain international chances.
The club have an option on his present deal which is worth around £30k a week and in the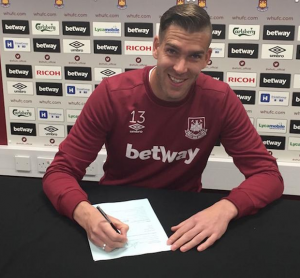 absence of top class keepers are interested in keeping both him and Darren Randolph.
The Hammers are likely to offer him a maximum of two years on a new deal with a small rise on his basic which may not be enough to tempt the 30 year old who had clinched a place in his nation's international squad before losing the Irons sweater to Daren Randolph.
Suggestions that we may move for such as Joe Hart – who commands a £100k a week deal have been squashed by Slaven Bilic with the club eyeing other priority options this summer.
Talks are set to start soon with Adrian's advisers with an insider telling us: It's healthy for any player to have pressure on him for the position – there can never be guarantees.