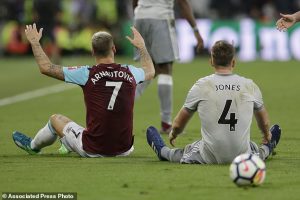 The London Legacy Committee have rejected Karren Brady's claim that the London Stadium's green carpet is dangerous and could cause injuries.
The Hammers players will be told to avoid running or walking on it  at the lap of appreciation on Sunday amid concerns it could cause injury.
Manchester United defender Phil Jones was seen tripping over the carpet as he raced after a ball that went out of touch.
But although Brady has already told the owners of her concerns on behalf of the club the LLDC are not prepared to do anything.
In a letter sent to London Stadium stakeholders in July 2017, Brady wrote: 'The green track cover last season was far from perfect and one of our players, (Cheikhou) Kouyate, was lucky to have avoided serious injury when he slipped.'
A spokesperson for the London Legacy Development Corporation (LLDC) said they believe the cover is 'perfectly safe' and there is no issue with it.