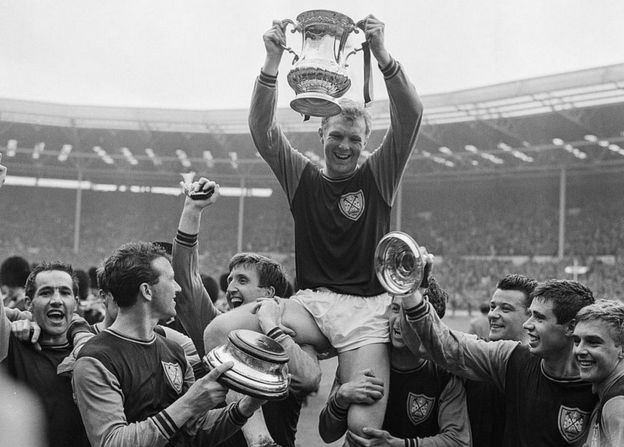 Bobby Moore is to honoured with the Lifetime Achievement award at the West Ham United Player Awards on Tuesday night.
In a piece on the official site the club say: 'Bobby's daughter Roberta will be in attendance at the InterContinental London at The O2 to accept the award in memory of her father, whose status as one of the finest players the game has ever seen remains as bright as ever, 24 years after his tragic passing at the age of just 51.'
To mark the very special moment the club invited  four of Bobby's former team-mates to London Stadium to offer their special memories of the greatest footballer to represent this club – Trevor Brooking, Ronnie 'Ticker' Boyce. Kenny Brown and Brian Dear.
Brown, played alongside Bobon his debut as a 17-year-old against Manchester United in 1958 and in both the 1964 FA Cup and 1965 European Cup Winners' Cup triumphs, summed up the greatest defender's in the history of the game.
"Mooro was just different class," said Ken. "He read the game like nobody else. I lost count of the number of times I ran behind him to cover and just watched him collect the ball. And he didn't just clear it, he always tried to create something."
'Ticker' – who carries the nickname because he was the buy who was forevBoyce, who famously scored the last-minute winning goal in that 1964 FA Cup final victory over Preston added: "I was just in awe of him. I loved every minute of my time playing for West Ham, and I would put three quarters of that down to Bobby Moore."
Sir Trevor, who played both with Bobby and then against hier making things 'tick' along in that fantastic team – said: "As a young player, it was a privilege to play with someone of that level. It is sometimes an over-used word, but you can look back over the last 50 years and say that Bobby Moore is a genuine world football legend."
Brian Dear, a close friend of Bobby off the pitch, added: "Just a perfect person. He was great at everything."
And Sir Trev said: ""As a young player, it was a privilege to play with someone of that level. It is sometimes an over-used word, but you can look back over the last 50 years and say that Bobby Moore is a genuine world football legend."